Ensure that your data is always close at hand
In short, Keyturion PRO is Keyturion with your own space (account on the server), which also gives you access to the additional administrator web application from your favourite browser, and also allows remote configuration of the monitored computers. It works well on a single computer as well as on multiple endpoints.
What can Keyturion PRO be used for?
Keyturion PRO acts as a perfect solution for users who want to ensure that they have constant and uninterrupted access to gathered data stored on Keyturion Pro. It will also be great for users that seek independence in being able to change the settings of their account remotely, while taking full advantage of comprehensive data that has been collected from a number of computers, all at once.
This program overall is a valuable asset for those who are looking to monitor multiple computers at once.
| | |
| --- | --- |
| | All data is gathered on cloud server. This ensures that they do not take up space on the computer that is being monitored. It essentially allows for large amounts of data to be stored. |
| | Ensures that you can manage and analyze data that is received from many computers. |
| | |
| --- | --- |
| | Allows for the possibility of remote configuration of the Keyturion application. |
| | Provides for full privacy of information through encryption. Access can only be granted through that of a private key. This ensures that no unauthorized entity can access stored data. |
Main difference in storing your data
Keyturion
Keyturion PRO
Sends the saved data to a specified email address.
Sends the saved data to a designated server in the Cloud.
May encounter provider limitations when sent data in the form of attachments / email content.
No limit on data for text or screenshots. Data is stored safely in the Cloud.
For example, even thousands of screenshots per day(and hundreds of thousands over months).
Does not allow for remote configuration.
Allows for remote configuration of monitored computers.
Data browsing is only suitable for one computer.
Data is stored securely and comprehensively, for multiple computers, at any one time. This allows for comfortable browsing and data categorization from a number of computers.
Ensure the productivity of your employees
Keyturion Employee Productivity Monitoring Software allows you to ensure that your employees are being productive and not twiddling their thumbs on the job. This software will show you the amount of time your employee dedicates to work duties, while also showing you the amount of time that is wasted on personal use through platforms such as social media or private messaging.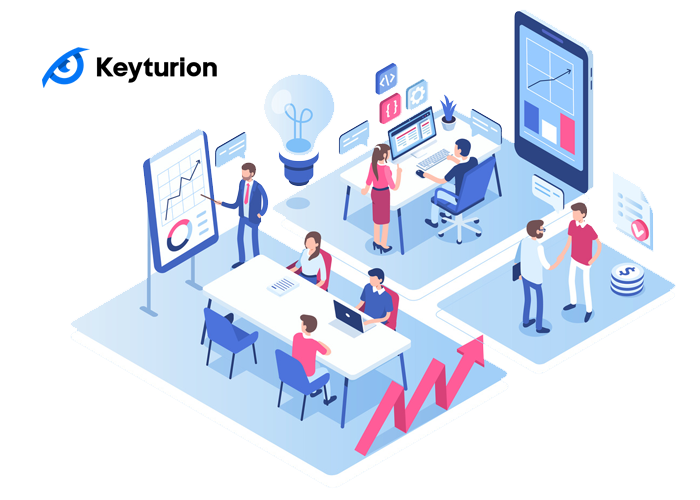 Do you have any questions?
Require Further Assistance?
Don't know which version you will need?
Looking for answers to technical questions and concerns?
Needing customized and personalized services?