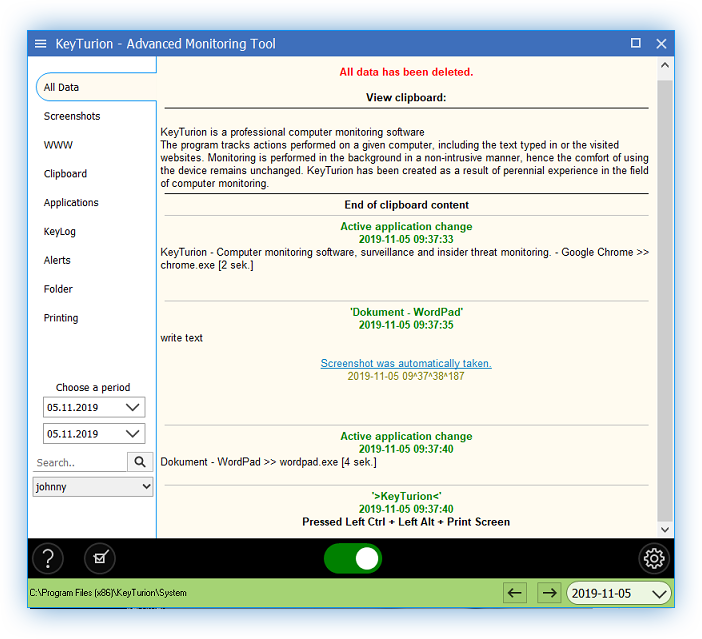 Keyturion – trusted and professional computer monitoring software
The program tracks actions performed on a given computer, including text typed in and websites visited. Monitoring is performed in the background in a comfortable, non-intrusive manner; hence, using the device remains virtually unnoticed. Keyturion was created as a result of perennial experience in the field of computer monitoring.
Why Keyturion?
The ease of use and vast configuration options make the application perfect for monitoring actions performed on a computer either at home or in a company.
Remarkable possibilities of monitoring the user's activeness, activating alerts, and the possibility of changing settings, including filtering, enable efficient detection of internal threats within a given organization without interfering with the operation of a particular computer or decreasing its performance.
The PRO version of the application was specially created for companies and organizations—places where discrete monitoring of many computers is often necessary.
| | |
| --- | --- |
| | Perfect, user-friendly, and comprehensive data presentation. |
| | Possibility of searching for desired data quickly and easily. |
| | Vast hiding options: possibility of hiding the application in the list of processes, task manager, and other places. |
| | Sending the saved data to a specified e-mail address (or to a server, as in the case of the PRO version). |
| | |
| --- | --- |
| | Data browsing and data export options available directly in the program. |
| | Password protected access. |
| | Filtering function and extended keys, as well as backspace, alt, and ctrl. |
| | Original formatting of the written text is maintained. |
Keylogger
Screenshots
Clipboard monitoring
Visited websites
Applications
Folders
Printed Document Tracking
Freedom of configuration and the possibility of combining various rules with one another will prevent any key activities from being omitted by the supervisor.

The level of safety within the company can be increased and, as a result, the time spent on supervising user's work can be notably shortened.

Alerts operate in real time and activate predefined notifications, such as sending an e-mail informing about a given event or taking a screenshot immediately after identifying an unwanted action.
Example no. 1
You suspect that your employee searches for improper and prohibited content. For example, he or she has typed in the word "example."
The program can be configured in such a way to take a screenshot and immediately send you an e-mail notification when this action is performed.
You can set triggers filters when certain words are typed, programs are started, listed websites are visited, or when data is copied to the clipboard.
Example no. 2
The program can track if data such as, for example, a bank account number are copied to the clipboard:
"102010230020261395100000PL13"
Just as in the case of example no. 1, it is possible to set the program to react to such an event in a proper way.
Regardless of the settings, all alerts are stored for further review and include the date of the event. If you do not want to constantly receive such notifications, you can always browse through them at a later date because they are saved in the form of a comprehensive report.